Main Content

What were your biggest takeaways? 
Listen to everyone. Like I previously stated, I had the privilege of being surrounded by the most well informed and intelligent students one will ever encounter. Along with intelligent students, I also surrounded myself with intelligent instructors, faculty members, and professionals. I came into the program having strong opinions about society and politics. When I started listening to everyone and analyzing their perspectives, I learned how important it was to truly listen to other people and learn about their backgrounds and perspectives.
What is something new that you learned about yourself? 
Haha, it definitely was not that I had a "funny laugh." But in all seriousness, I learned that I'm not as stubborn as I thought. I am still very strong in my political views, but after receiving education about the other side, my opposition has declined and my open-mindedness has increased. 
How has this experience changed your mindset? 
My ultimate change in mindset was when I began to listen to other people and empathize with them. One of the speakers, Maria, changed my mindset. She challenged me, and everyone else in the institute to not only strongly interpret the Constitution but to also consider empathy in governing. She was just one example of a time when I was challenged to apply my knowledge about the deep meaning of the Constitution, and applying it to everyday situations.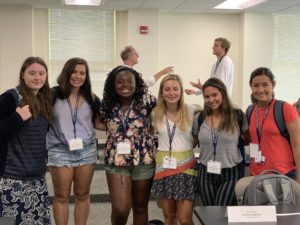 What is an experience you had that really stands out to you?
Every night, the Wake Forest Summer Immersion Program policy is, you must be on your floor by 9:00 pm, then in your room by 10:00 pm. You would assume that would be limiting, but the 9-10pm "girl talks," was the best hour of every day at Wake Forest. It was a time where we would get together, get to know each other, but more than anything: we would laugh. We would laugh out loud. We would laugh too much. But we only grew closer every hour from those talks.
Describe someone you met who impacted you. 
Choosing one person who impacted me during the Policy and Politics Institute is difficult. Everyone has taught me so much, whether he or she was a speaker, a professor, or a student, every person at Wake Forest had an impact on me. However, if I have to choose one, that person is my roommate, Sophie. Sophie always made me laugh, ensured that I made it out of the shower by 7:58 AM, (when the check-in time was at 8:00 AM) and always encouraged me to be confident and to have fun. She has the purest heart and I am so glad that I had the opportunity to room with her.
How has this experience impacted your future? 
This experience has challenged me to become a more empathetic person and a careful listener: two skills essential skills in a political career. Good politicians will talk about what they will do to help their citizens. Strong elected officials will listen to their constituents and lead their community. The experience here has initiated the process for me to become a free thinker: something that Dr. Pisapia has challenged me to do. The methods that he set forth have made me realize how to become a strong politician and a free thinker who aspires to lead our country one day.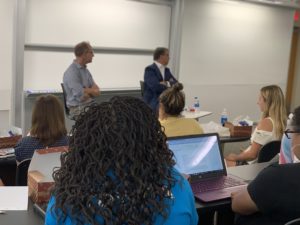 What was your favorite moment from this week? 
My favorite moment was when Dr. Michael Pisapia hosted Governor Pat McCrory and he spoke to our class. Given that the students in the institute were so politically informed and engaged, they challenged him with very compelling, yet respectful questions. Many of us took the time to research information about Governor McCrory so we could ask difficult questions. I was grateful to have the opportunity to not only gain insight into another perspective but also surround myself with a variety of intelligent and informed students who care about their political environment. 
How has this experience clarified your goals? 
This experience has only emphasized my love for law and government. I gained plenty of insight into the process of becoming involved in politics, which aided my understanding of developing a political career. I also received great advice in regards to diversity in the political science profession. 
What was the most interesting thing you did/saw/learned?
The most interesting activity was visiting the Federal Courthouse. While we were there, we met Chief Justice Schroeder and Judge Peak. Both judges provided insight into the laws they must interpret and uphold, as well as the sentencing process. While we there, an interesting fact that stuck out to me was the fact that Congress decides the length of one's sentence. We then raised the question and held a discussion about the separation of powers based on that fact. It was discussions and interpretations similar to that one that created an outstanding experience during the Policy and Politics Institute at Wake Forest. 
Why would you recommend the Summer Immersion Program? 
I would recommend the Summer Immersion Program not only because you will have the chance to explore your interest in a particular field, but will also gain some of the best experiences of your life. I have never felt like I created long-lasting relationships at a summer program the way I did at the Summer Immersion Program. Between having the chance to learn about Wake Forest, politics, and make new friends; the Summer Immersion Program is a program that everyone should seek to participate in.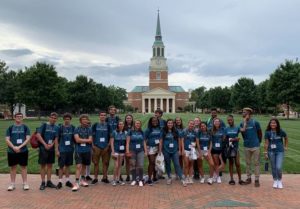 Recent Posts
July 31, 2020

July 24, 2020

July 17, 2020