Main Content
Sports Medicine Institute
Discover what it takes to keep top athletes on the field and performing at their very best.
The Sports Medicine Institute will expose students to innovative methods of medical care for the nation's most elite athletes as well as the career options available. The program will provide hands-on experiences ranging from the very building blocks of sports medicine to the integration of advanced techniques to injury prevention, rehabilitation, and athletic performance. Students will learn from the esteemed expert, Dr. Gary Poehling as well as countless experienced orthopedic medical professionals, trainers, coaches and athletes themselves. This institute allows students who have both a passion for medicine and sports the ability to experience the field of Sports Medicine first hand.
At a Glance
---
Dates: Summer 2021 dates will be announced on November 1, 2020.
Eligibility: Rising sophomores, juniors and seniors in high school and incoming college freshmen
Program Length: 1-week session
Program Tuition: $2,700
Location: Winston-Salem, NC – Wake Forest University Reynolda Campus
Day or Overnight Program: Overnight
*Courses carry no secondary school or college credit. Upon completion of the program, an official Wake Forest University certificate of achievement will be awarded to all Sports Medicine Institute participants.
Topics Covered
Sports Medicine

Surgery

Physical Therapy

Orthopedics

Athletic Training and Rehabilitation

Concussion Research and Neuroscience

Prevention, Care and Rehabilitation of Athletic Injuries
Hands-On Experience:
Tour D1 Facility –

an experienced team of orthopaedic surgeons and physical therapist

Visit Wake Forest Athletics training room and physical therapy

Practice injury prevention techniques

Perform rehabilitation skills

Taping labs
*Hands-on experiences are subject to change.
Sports Medicine Institute Costs:
Reynolda Campus (Residential Program) | $2,700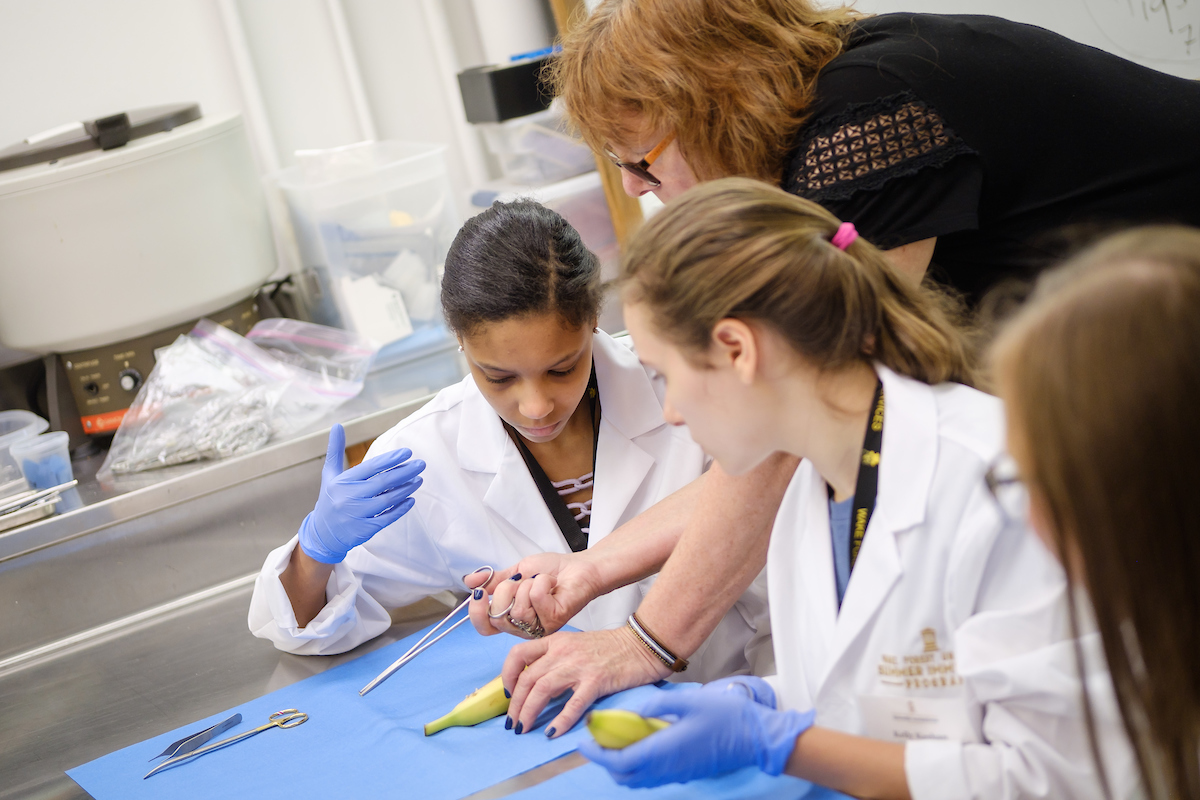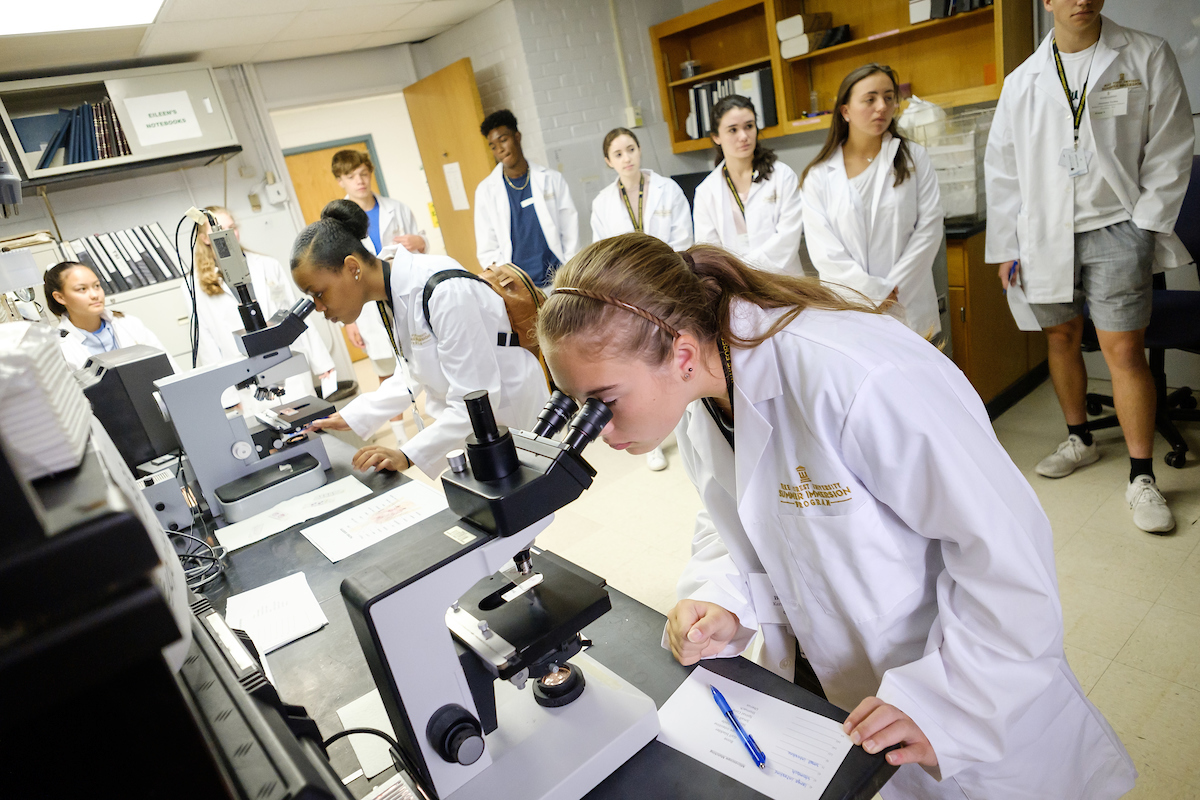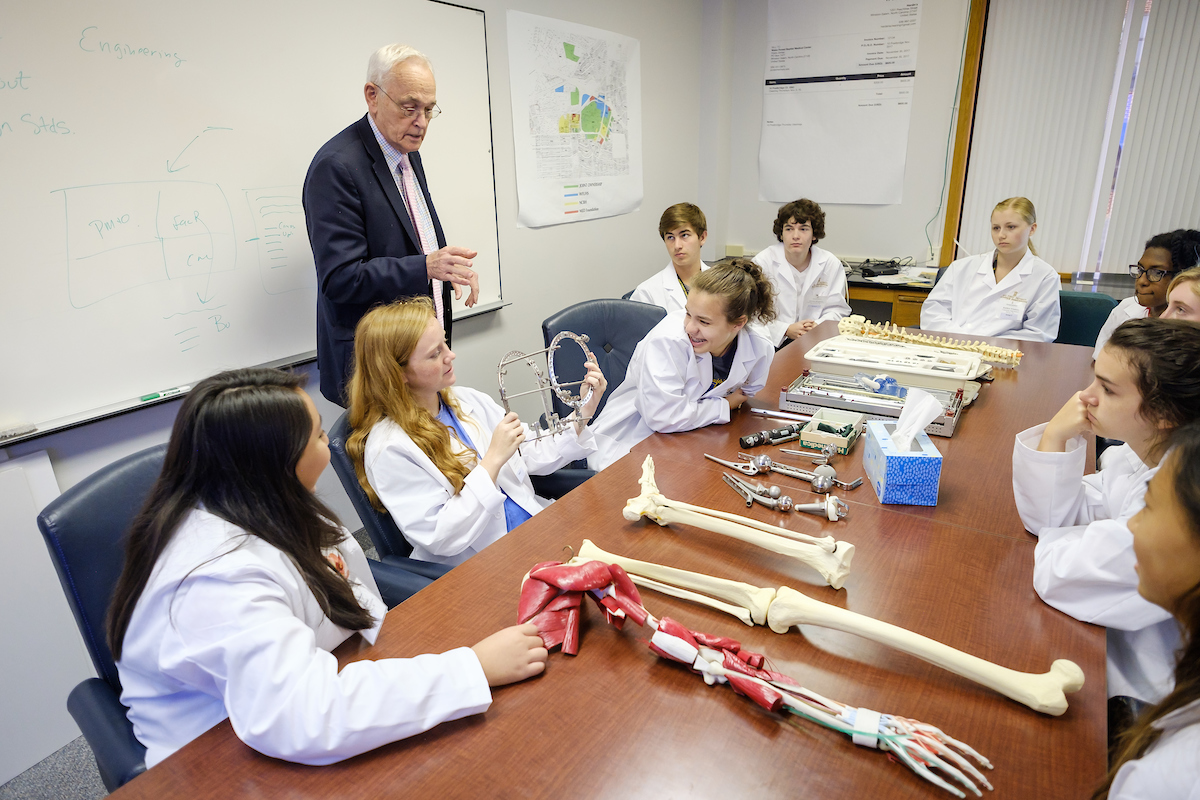 8:00 – 9:00 am- Arrive and breakfast
9:00 – 9:30 am – Welcome and program introduction
10:00 – 11:30 am – Orthopaedic skills rotations (suturing, sawbones, and arthroscopy)
11:30 am – 12:30 pm – Lunch
12:30 – 1:30 pm – Biomechanics lab
1:30 – 2:45 pm – Concussion protocol
2:45 – 5:30 pm – Excursion to D1-Athletic training facility
5:30 – 6:30 pm – Dinner
6:30 – 7:30 pm – Evening activities
7:30 – 9:00 pm – Free Time
9:00 – 10:00 pm – Prepare for bed
10:00pm – Lights out
*This "A Day in the Life" sample schedule is based upon the 2018 curriculum and is subject to change.
Dates for Summer 2021 will be announced on November 1, 2020.
Dr. Gary Poehling, MD, PhD
Academic Leader, Sports Medicine Institute
Dr. Gary Poehling was born and raised in LaCrosse, Wisconsin. He received his Bachelor's degree in Biology from Marquette University in 1964 and his M.D. degree from Marquette University (School of Medicine of Wisconsin, Milwaukee) in 1968. Dr. Poehling's internship and residency were completed at Duke University Medical Center. He also served in the United States Airforce and it was during his stay in Tachikawa, Japan that he had the opportunity to train under one the first arthroscopists in the world, thus developing his interest in the specialty. He currently is Editor in Chief Emeritus for Arthroscopy, The Journal of Arthroscopic and Related Surgery. In addition to his expertise in arthroscopy, he obtained the Certificate of Added Qualification of Surgery of the Hand by the American Board of Orthopaedic Surgery in 1989. He joined the faculty at Bowman Gray School of Medicine (Wake Forest University Health Sciences) in 1976 and was appointed Chairman of the Department of Orthopaedic Surgery in 1989.
"Early in my career, I pioneered the use of arthroscopy to manage orthopaedic pathology of the knee, shoulder, and wrist.  Arthroscopy employs a minimally invasive technique to repair cartilage, ligament, and bone pathology within joints allowing patients to recover more quickly after their procedure compared to the open surgical techniques.  Since 2007, I have used unicompartmental knee replacements for patients with knee pain due to osteoarthritis.  This technique uses computer-assisted technology and robotics as a less invasive method than total knee joint replacement.  I believe that similar techniques can be used to develop computer-assisted technology repair surgery that can be used in combination with arthroscopy techniques.  The advantage of the computer-assisted techniques will be that they will support the more accurate placement of ligament repair within the knee, and thus, decrease the incidence of post-operative graft failures.  The computer-assisted techniques will shorten the surgical time and result in improved post-operative patient outcomes. "